SENATOR FUMO'S COMMITTEE ASSIGNMENTS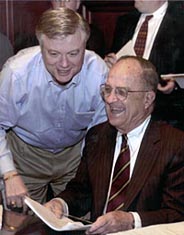 Senator Fumo (left) shares a laugh during a break in a meeting with former Republican Appropriations Chairman Richard Tilghman of Montgomery County.
Senator Vincent Fumo is the Democratic Chairman of the Senate Appropriations Committee. In that role, he is the primary member of the Senate Democratic caucus responsible for developing the state budget and determining the commonwealth's spending priorities. He oversees a staff that analyzes all legislation for its fiscal impact on the state. All bills must pass the Appropriations Committee before they are voted upon on the floor of the Senate.
In the 2003-2004 legislative session, he also serves on the following standing Senate committees:
Communications and Technology

Consumer Affairs and Professional Licensure

Ethics

Game and Fisheries

Policy

Rules and Executive Nominations

Urban Affairs and Housing
In addition, Senator Fumo is a member of the following government related boards or commissions:
Firearms Background Check Advisory Committee

Governor's Committee of Automated Technology

Legislative Data Processing Committee

Pennsylvania Housing Advisory Committee

Public School Employees Retirement Board

Pennsylvania Higher Education Assistance Agency (vice chair)
Copyright 2000 Sen. Vincent J. Fumo