FUMO CALLS FOR HEALTH INSURANCE BY VALENTINE'S DAY
PHILADELPHIA, January 14, 2008 -- State Sen. Vincent Fumo (D-Philadelphia) joined Gov. Ed Rendell today in urging the General Assembly to negotiate a compromise by Valentine's Day to cover all Pennsylvanians with health insurance.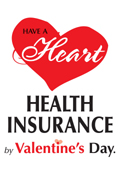 Fumo said Republicans in the Senate have so far refused to negotiate over a plan to provide coverage to more than 700,000 uninsured Pennsylvanians – most of whom are working.
"In the 21st century, the people of America and the people of Pennsylvania should not have to worry about whether they will be able to afford health care," Fumo said. "We must maintain our focus and get this done by mid-February."
Click here to listen to a portion of Sen. Fumo's remarks.
Click here to see a portion of Senator Fumo's remarks on YouTube
Fumo and state Sen. Vincent Hughes were joined by dozens of health-care professionals at the Philadelphia College of Osteopathic Medicine (PCOM), where administrators and staff expressed strong support for their plan.
"We see every day the inextricable link between coverage and wellness," said PCOM President and CEO Dr. Matthew Schure.
Gov. Rendell has proposed a plan to tax cigarettes an additional 10 cents a pack, while also ending Pennsylvania's dubious distinction of being the only state in the U.S. to sell dangerous smokeless tobacco products tax-free.
While the governor's plan was carefully crafted by his Office of Healthcare Reform, both the Senators and the governor said they are ready to listen to suggestions.
"The problem now is that Republicans in the Senate don't even want to compromise," Fumo said. "I don't know why."
# # #