FUMO WANTS STATE FUNDS OUT OF IRANIAN ENERGY INVESTMENTS

HARRISBURG, February 12, 2008 – State Senator Vince Fumo (D-Philadelphia) has introduced legislation to require the state's two public pension funds and the State Treasurer to divest from companies with direct business ties to Iran's energy sector. In addition to Fumo, a bipartisan group of 21 other Senators – eight Republicans and 13 Democrats – is co-sponsoring the bill (SB 1279.)

"There is a compelling moral argument for divesting from companies that do business with the government of Iran," Fumo said. "Not only does Iran continue to pursue policies openly hostile to our broader interests of peace and stability in the Middle East, but it remains one of the world's most active state sponsors of terrorism."

He also pointed out that there is a strong fiduciary argument for divestment. Under the federal Iran Sanctions Act of 1996, foreign companies that invest more than $20 million in Iran's energy sector are subject to a variety of U.S. sanctions. The law was recently strengthened, closing loopholes, and increasing the liklihood that sanctions will be imposed. Publicly traded companies doing business with Iran are thus putting their share value at risk.
Click here to listen to audio of Senator Fumo discussing Iran Divestiture
Click here to see a video of Senator Fumo answering questions about Iran Divestiture

The State Employees Retirement System (SERS) and the Public School Employees Retirement System (PSERS) both currently have holdings in 12 companies that violate the Iran Sanctions Act – China Petroleum and Chemical; ENI SPA; Gazprom; Lukoil Oil Co.; Norsk Hydro; Oil and Natural Gas; Petrochina Co.; Petroleo Brasileiro; Repsol; Royal Dutch Shell; Statoil ASA; and Total SA.

In addition, SERS owns CNPC Hong Kong LTD, and PSERS holds Oil Co. Lukoil; and OMV AG.

Fumo's bill targets the Iranian energy sector because it is the most critical of Iran's economy. Foreign investment in the petroleum business accounts for 80 percent of the country's hard currency. While having the biggest impact on Iran, it is limited in scope, thus minimizing the impact on public funds in the United States. There are only 19 companies potentially affected, all of which are non-American, and all of which have equally profitable foreign oil company alternatives.

The Iran divestment legislation has five main components. It will:

• Require the fund to review its holdings in companies investing at least $20 million in Iran's energy sector.

• Require the fund to notify such companies of their status and the fund's intent to divest unless the company ceases activity in Iran.

• Mandate the fund divest from its direct holdings in these companies within one year following the notification.

• Call on pension fund managers to review their holdings in co-mingled investments, and explore the possibility of creating alternative funds devoid of these holdings.

• Require a report to the state legislature annually from the state pension funds and the treasurer on their status and actions related to divestiture.

Four states – Florida, Illinois, California and New Jersey – have already passed Iran divestment bills, and similar legislation is moving in three other states – Maryland, Michigan and Massachusetts. Three other state have taken non-legislative Iranian divestment action and another seven are considering legislation in their upcoming sessions.

Also, the U.S. government is going after international banks doing business in Iran and the European Union is lessening its economic involvement there. The United National Security Council has twice passed resolutions imposing sanctions and is considering a third, more punitive one. Several pieces of legislation before Congress would further increase economic pressure on Iran.

"While many efforts are underway, it is important for Pennsylvania to do its part by removing from Iran the investments that we can control," Fumo said. "We should lend our voice to the international call for Iran to halt its terror-related activities if it wishes to enjoy the financial benefits of being a good world citizen."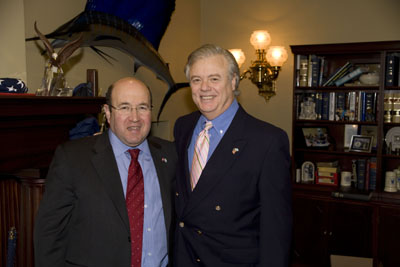 Uriel Palti (left), Consul General of Israel, visited Senator Fumo in Harrisburg on January 30 and discussed Fumo's proposed Iranian divestiture bill.
# # #
Click here to see a press release in support of this legislation from the Pennsylvania Jewish Coalition